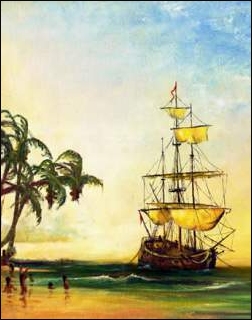 "Bounty Anchored off Pt. Venus, Tahitie" (detail)
From the 'Bounty Chronicles' (by John Hagan), 28 original oil paintings depicting characters and scenes of the HMAV Bounty. Currently unavailable.
Center Collections
The Study Center contains one of the world's largest collections of materials relating to the Mutiny on the Bounty, Captain William Bligh, HMAV Bounty, Pitcairn and Norfolk Islands.
Included in the collection are more than 1,000 books, numerous journal articles, and hundreds of non-print items.
Click here to read Study Center policies on loaning and copying.