| | |
| --- | --- |
| Education on Pitcairn Island | |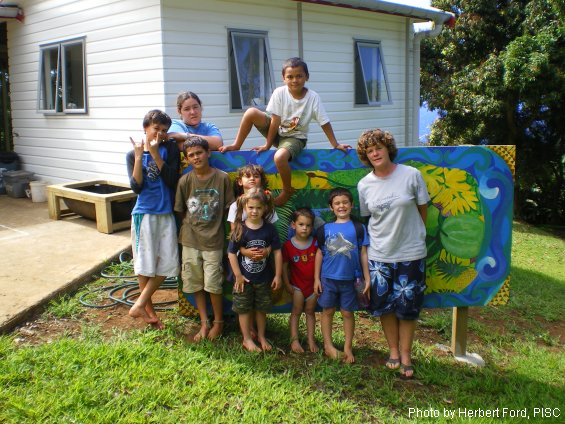 Pitcairn school children with their teacher, Susan Davey, outside of the school building (September 2007)
The story of education on Pitcairn Island begins at the turn of the nineteenth century when the well-educated Edward Young taught John Adams to read from a Bible and a Prayer Book, which had been salvaged from HMS Bounty. After Young's death in 1800, John Adams taught the first generation of children to read.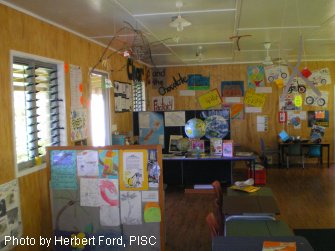 Then in 1823, John Buffett arrived at Pitcairn on a British whaler, the Cyrus, and took over the role of teacher. In 1828, George Hunn Nobbs arrived at Pitcairn and assumed the triple role of pastor, surgeon and teacher, first on Pitcairn and later on Norfolk Island.
After the Pitcairners' return from Norfolk Island in 1864, Simon Young, a descendant of one of the mutineers, and his daughter Rosalind kept a simple system of education alive until, in the last decade of the century, the school came under the guidance of the Seventh-day Adventist Church. Between 1917 and 1938, when the Church again appointed a resident pastor, the academic side of the school was once again left to the islanders. In 1958 Government formally assumed responsibility. Legislation first introduced in 1838 provides for the compulsory attendance of children between the ages of 5 and 15 and for a minimum five-hour day of 380 half-days a year.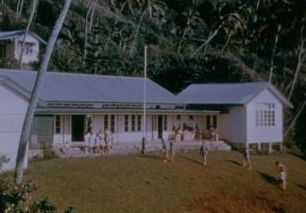 Today, the Education Officer is appointed by the Government from suitable qualified applicants who are New Zealand registered teachers. The Education Officer is also the Government Adviser and Editor of Miscellany, the island newspaper, and is contracted for two year terms. The Education Officer is assisted by a Pitcairn language teacher and staff include a cleaner and grounds person.
The school and the teacher's residence have recently (2004) been reconstructed with the first buildings having been completed in 1950. The equipment is modern and includes a 7.5 kva generator, a film projector, piano, sound system, computers, television, VCR, photocopier and a range of woodwork tools. The school library is kept well stocked.
The average attendance at the school in the early 1950s was 20 pupils, increasing to 28 in 1959 and 36 in 1962. Since then the roll has gradually decreased, and in 1999 there were 10 pupils.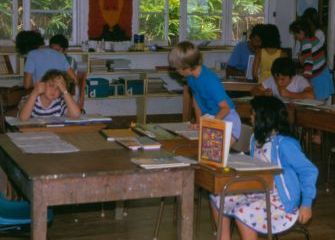 The school provides primary education, based on the New Zealand syllabus, and correspondence courses in post-primary education were introduced in 1957. Overseas secondary education is encouraged by the grant of bursaries and a number of students have received secondary education in New Zealand at Pitcairn Government expense.
The pattern of education on Pitcairn keeps pace with curriculum changes in New Zealand. The island, traditionally a land of smallholders and handicraft traders, has developed new markets for the export of dried fruit and honey products. Tourism is developing into a more significant local industry both with visits by cruise ships and with those who visit to stay a few weeks on the island.
Education policy therefore aims to provide a broad range of skills to enable adaptability in a changing environment.
Pitcairn Island School Teachers
| | |
| --- | --- |
| Year/s | Name |
| 18_? | Edward Young (teaching John Adams reading & writing) |
| 18_? – 1829 | John Adams |
| 1823 – 1856 | John Buffett, assisted by John Evans (not continuously) |
| 1828 – 1863 | George Hunn Nobbs |
| 1850 | Hugh Carleton (While marooned on Pitcairn Island) |
| 1852 – 1853 | Chaplain Holman of HMS Portland in absence of Nobbs |
| 1856 | Simon Young (taught the Pitcairners on Norfolk Island) |
| 1857 – 1864 | Mrs. Selwyn (while she was resident on Norfolk Island) |
| 1858 – 1864 | Thomas Rossiter (till Pitcairners departure from Norfolk) |
| 1859 – 1864 | Sarah and James McCoy (on Pitcairn Island) |
| 1864 – 1890 | Simon Young & Rosalind Amelia Young |
| 1891 - 1893 | Edward Harmon Gates & wife, Ida E. Gates |
| 1893 – 1896 | Hattie Andre |
| 1894 | Edwin Sebastian Butz |
| 1896 | J. C. Whatley |
| 1905 | Walter H. Petch |
| 1907 – 1911 | Mark Warren Carey |
| 1914 – 1917 | Melville Richard Adams |
| 1917 – 1929 | Roberta Warren |
| 1920 – 1929 | Edmund McCoy |
| 1928 | Luther Hare |
| 1920 – 1929 | Lucy Christian (nee Young), Edith Christian (nee Young) |
| 1930 | Walter Fisher Young, Ivy Brown, Fred Christian |
| 1932 | Roy Clark, Alfred Young, Ada Christian |
| 1932 – 1935 | Theodore Young |
| 1935 | Roberta Warren |
| 1936 – 1938 | Bert Christian |
| 1938 – 1944 | Frederick Percival Ward |
| 1944 | Donald H. Watson, Nurse Totenhofer |
| 1947 | Frederick Percival Ward, Clarence Young, Bert Christian |
| 1948 | Frederick Percival Ward |
| 1948 – 1951 | Albert W. Moverley |
| 1951 | R. Sanders |
| 1954 | George Allen |
| 1956 | A. Wotherspoon |
| 1957 - 1957 | Allen Wotherspoon |
| 1957 - 1959 | E. Schubert |
| 1960 - 1961 | M. D. Howse |
| 1962 - 1963 | S. A. Kinder |
| 1966 - 1966 | J. H. Forster |
| 1967 - 1968 | A. A. Reeves |
| 1969 - 1971 | R. S. Henry |
| 1972 - 1973 | G. D. Harraway |
| 1974 - 1975 | C. P. B. Shea |
| 1976 - 1977 | T. Whiu |
| 1978 - 1979 | A. K. Cox |
| 1980 - 1981 | R. R. Whiting |
| 1982 - 1983 | A. K. Cox |
| 1984 - 1985 | L. H. Salt |
| 1987 - 1988 | L. B. Buckley |
| 1991 - 1992 | A. R. Washington |
| 1993 - 1995 | Mrs. P. M. Foley |
| | Mrs. P. Brown (relieved in 1995) |
| 1996 - 1997 | B. B. Baronian |
| 1998 - 1999 | Mrs. S. E. Carnihan |
| 2000 - 2001 | R. J. MacDonald |
| 2002 - 2003 | Allen Cox |
| 2004 - 2005 | Mary Maple |
| 2006 - 2007 | Susan Davey |
| 2008 - 2009 | Jeannie Horrell |
| 2011 - 2012 | Hilary Millard |
| 2012 - 2013 | Ruth Shelling |
| 2013 - 2014 | Hilary Millard |
| 2014 - 2015 | James Park |
| 2015 - 2016 | Georgina Milford |