| | |
| --- | --- |
| Norfolk Island Philately | |
| First Day Covers | |
The stamps of Norfolk Island have long enjoyed a favored place in the world of philately – its issues are among some of the most attractive and educational of all countries of the world. Appearing below is the First Day Cover of the Island's latest issues.
Norfolk Island, Christmas 2014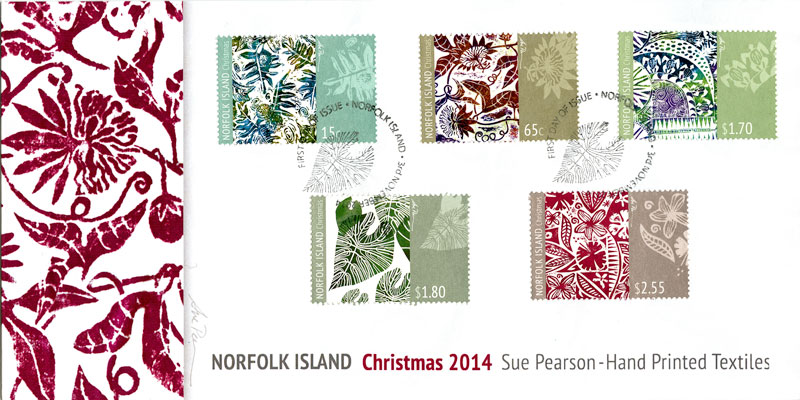 Every year stamp designers say that "the hardest issue to design is Christmas," as they try and look for new ideas.
Designer Mary Pavicich has done just that by using local artist Sue Pearson's designed and hand-printed fabrics.
Sue is a talented local artist who works with many mediums, and these fabric designs of Sue's are yet to be released. The "island elements" of Breadfruit, Passionfruit Flower, Taro, Turtle and Hibiscus are some of the features of the fabric designs on the Christmas stamps of 2014.
Technical Details - The issue date of the stamps was November 3, 2014. The stamp values are: $0.15, $0.65, $1.70, $1.80, $2.25. The prices are: Stamp set, $6.83; FDC, $8.20. The stamp designer is Mary Pavicich. The textile designer is Sue Pearson. The printer of the stamps is Southern Color Print, New Zealand. The sheet layout is sheets of 25 in two panes, one of 10 and one of 15. Gutter: Shown in the gutter strips. Print quantities of the stamps is 12,000 of each value; 700 First Day Covers.
Norfolk Stamp Issues
(Click small stamp images to see larger views.)
Norfolk stamps of recent date are illustrated below along with their date of release. Additional release dates and a history of Norfolk philately may be seen by clicking here.
2014

Christmas 2014
Quilts
Pine Tree Booklet
100 Years of Red Cross
Quota International
Joint Issues
Artwear
Shorelines of Norfolk II

2013

Trans Tasman FMX
Shorelines
Christmas 2013
20 Years of Country Music
Norfolk Island Church Bell

2012

70 Years of Aircraft Landing on Norfolk Island
Christmas 2012
51 Years of the Sunshine Club
Queen Elizabeth II Diamond Jubilee
Iconic Activities
Overprint Seabird

2011 - Chrismas Issue

80 Years of Policing
World Heritage
National Parks
Seashells - Island Shores
Definitive
Museum Artefacts, 2

2010 - St. Barnabas Chapel

World Bowls Champion
Christmas 2010
Species at Risk
Cruise Ships - Norfolk Island
They Came Aboard Moyarshire
Whaling History of Norfolk
World Bowls Championship

2009 - Christmas 2009

Norfolk Island Legislative Assembly
Bush Birds
Joint Territories of Australia
Fungi of Norfolk Island
Cattle Breeds of Norfolk Island
Norfolk Island Mosaics

2008 - Ships Built on Norfolk Island

Rare Ferns in Norfolk Island
St. John's Ambulance, 25th Anniversary
Calves of Norfolk Island
A Jewish Resting Place
Faces of Norfolk Island
Classic Cars

2007 - Banyan Park 'Friendship' Center

Christmas 2007
Bicentennary of 1st Settlement
Queen Victoria Scholarship
Ghosts of Norfolk Island
Palm Seed Industry
Adventure Sports
Weed Flowers

2006 - Christmas 2006

Centenary of Middlegate School
Dogs Issue
Seabirds Definitive - Part 2
Traditional Hats
Sesquicentenary Issue
- Arrival at Norfolk Island
Sesquicentenary Issue
- Departure from Pitcairn
Commonwealth Games
Queen's Baton

2005 - Christmas 2005

Seabirds Difinitive - Part 1
Hibiscus Flowers
Old Island Houses
Norfolk Island Museum
Centenary of Rotary International

2004 -

Sharks
Spiders of Norfolk Island
Werken Dar Shep
Hippeastrums
QUOTA Int'l – Norfolk Island 25th Anniversary Issue
New local stamps
World Wildlife Fund for Nature
25th Anniversary of Self Government
Christmas 2004

2003 -

Horses on Norfolk Island
Photographic Scenes of Norfolk Island
Lillies Issue – Part 1
Writer's Festival
Personalised Stamps
50th Anniversary of Queen Elizabeth II Coronation
100th Anniversary of Powered Flight
Christmas 2003

2002 -

Nuffka
Cliff Ecology
Her Majesty Queen Elizabeth II's Golden Jubilee
The Age of Steam
6th South Pacific Mini Games
Bounty Bowls
Philip Island Flowers (Part 1)
Commonwealth Games
Philip Island Flowers (Part 2)
Sperm Whale (Joint issue with New Caledonia)
Alliance Airlines – First Flight to Norfolk Island
Christmas 2002

2001 -

Norfolk Island Green Parrot

Hong Kong 2001
Year of the Snake
New Zealand Nat'l Stamp Exhibition, Invercargill
Bounty Day
Tourism Part 1 (Fragrance)
Calm Waters
Peace Keeping
6th South Pacific Mini Games, Norfolk Island
Postage Laels (counter-printed stamps)
Christmas 2001

2000 -

Festivals of Norfolk Island, Part 2
Year of the Dragon
Ducks & Geese of Norfolk Island
ANZAC Day 2000
Whaler 2000 Project
Bounty Day 2000
Eighth Festival of Pacific Arts 2000
Olymphilex 2000
Canpex 2000
Christmas 2000
Norfolk Island's Personalised Stamps

["Stamps of the Australian Territories: Norfolk Island" (By F. Collas, Assistant Controller, Postmaster-General's Department, Melbourne)]