--from A Visitor's Booklet to Norfolk Island, 22nd ed., April 2001.
Norfolk Island Tourism
FLIGHT DETAILS
Getting to Norfolk Island couldn't be easier. Frequent arrivals and departures are from Sydney (2.5hrs) Melbourne(3.15hrs) Brisbane(2.10hrs) and Newcastle (2.5hrs) flying with Norfolk Air and from Auckland Air New Zealand service is once a week (1.45min) All flights depart from the International terminal. The cruise ship market is growing with P & O Cruises making some port calls throughout the year.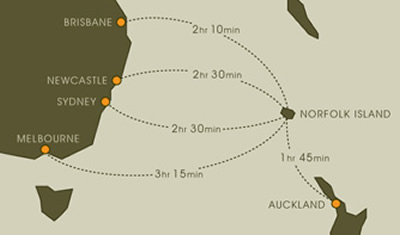 CRUISE
We look forward to welcoming you to Norfolk Island via cruise ship. Norfolk Island has two possible landing sites depending on weather and sea conditions. Whether you land at Cascade or World Heritage Listed Kingston, you will be bought ashore by tender boat and met by friendly locals and shore excursion organisers. The transit buses will bring you into the main shopping centre. Don't hesitate to stop and try any of the cafes and restaurants along the way. Look out for the Island markets in town, offering works by local artisians and craftsman.
CLIMATE
In a word: comfortable. One of Norfolk Island's many blessings is a subtropical climate. Average maximums during the day in Summer range from 23c - 25c and during Winter from 17c – 20c during the day, a little cooler at night during Winter but rarely falling below 10o. Our average rainfall is 1328mm per year; with average humidity in the 74% – 79% range. Wettest months are generally May to August, driest November to January. With a latitude of 29o South; on a map Norfolk Island is nearly a straight line across from Byron Bay on the East coast of Australia.
CURRENCY
We use Australian dollars and they work perfectly well. Travellers cheques and most credit cards are widely accepted. You can bank at Commonwealth and Westpac branches at Burnt Pine. There's a Commonwealth Bank ATM, and some limited EFTPOS on the island.
POPULATION
Our small but perfectly formed world is home to around only 1800 people. In peak tourist season, though, the total can reach up to 2800. Sometimes, tourists combined with temporary residents can exceed the local permanent population. But there's plenty of wide open space for everybody.
COMMUNICATIONS
A local mobile phone service is available when you purchase a local sim card (This will work if your phone is not locked into a plan) Global roaming is available for these carriers Telestra, Optus and Vodaphone. Any enquiries please call into the Norfolk Telecom office on New Cascade Road. There is a internet cafe located in the Village in the main street and most cafes offer wireless hot spot areas, where you purchase a prepaid voucher for your laptop. Public phone booths can be found at Telecom or located around the town, there is one community radio station (89.9fm) two weekly local newspapers, Australian TV coverage and a local TV information channel. The RSL club, Leagues Club and some accommodation properties provide PayTV.
LANGUAGE
We all speak English, of course. But you'll also often hear us speaking Norf'k, a unique language derived from the speech of the Bounty Mutineers (lead by Fletcher Christian) and the Tahitian men and women who settled Pitcairn Island in 1790. It has a lilting quality, and we reckon it's very pleasant on the ear. The United Nations has added Norf'k to its list of endangered languages.
"Watawieh yorlyi?" Hello and how are you
" I guud" I'm good
" Se yorlyi morla" See you tomorrow
"dem es sweet wettles" That is sweet (delicious) food.
ENTRY REQUIREMENTS
All visitors require a passport or Australian Document of Identity valid for longer than their period of intended stay, plus onward/return airline ticket and proof of accommodation. Australian residents can obtain a Document of Identity from Australia Post, free of charge. Passports not issued by Australia/New Zealand must be valid for at least 1 month beyond intended stay. An Australian visa is required unless holding an Australian/New Zealand passport or NI resident label. Australian visa must be valid for 30 days beyond period of intended stay. If arriving via Australia, a multiple entry visa is required.
MAP & BROCHURE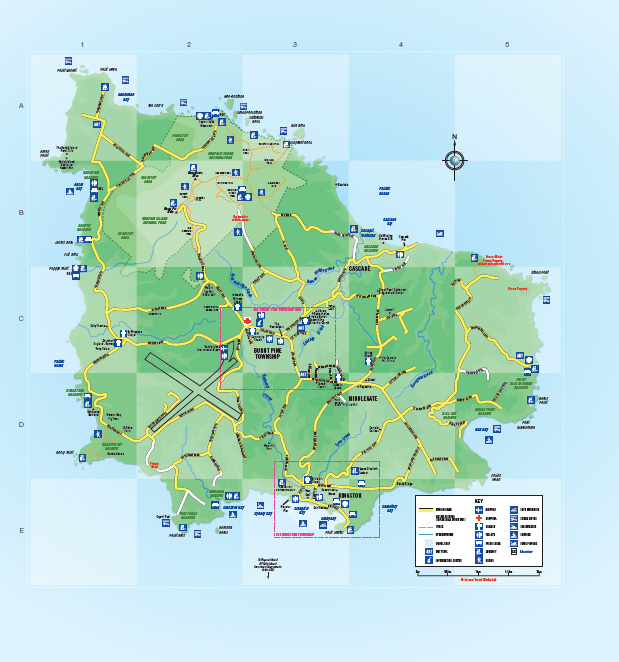 Click here to download a printable PDF of the map.

Click here to download a printable PDF of the Norfolk Island holiday brochure.

Or email info@nigtb.gov.nf or phone 1800 214 603 and the friendly staff at the Visitors Information Centre will post a brochure to you!
GEOGRAPHY
Our beautiful island is a volcanic outcrop 8km long and 5km wide, with a total area of 3855ha. Latitude 29o South, we are 1610km East North East of Sydney; 1456km East South East of Brisbane; 1063km North North West of Auckland; and 772km South East of Noumea. Two small uninhabited islands, Nepean and Philip, lie to our south. Approximately 1/3 of the Island is National Parks and Reserves.
TIME
We're 1½ hours ahead of Australian Eastern Standard Time. During Summertime, ½ an hour ahead of Sydney and 1½ hours behind New Zealand. We wouldn't dream of introducing daylight saving.
TRANSPORT & DRIVING
There is no public transport, so a rental car is the most practical way to get around the island and see the sights. Car hire from around $30 per day, plus a cost recovery fee payable direct to the car company. Sometimes your accommodation will include a hire car. For the fit, there are mountain bikes for hire and plans ahead for scooters to hire. A taxi is available, but it's recommended you pre book by phone. Please observe a general speed limit of 50km/hr; slowing down to no more than 40km/hr in the shopping centre and 30km in the heritage area at Kingston. Cows, chickens, ducks and other livestock roaming the roads have right of way. Driving is on the left hand side of the road. Locals give a friendly 'Norfolk Wave' to all passing vehicles. We encourage you to do the same.
MEDICAL
Norfolk Island Hospital provides a dental clinic, pharmacy and 24-hour emergency service. Private travel insurance is highly recommended, as Australian Medicare does not extend to Norfolk Island.
CUSTOMS
Imports of fruit, vegetables, flowers and seeds are prohibited. Pork and poultry from New Zealand are also prohibited. The duty-free allowance for passengers over 18 years of age is 2.25 litres of alcohol and 250 grams of tobacco products.
WEDDINGS
On Norfolk Island, romance is always in the air... Choose one of several historic churches to exchange (or in fact renew your vows) or choose a scenic outdoor location, such as at the beach, on a cliff top, or in a beautiful tropical garden. There are florist, hair, makeup, wedding cars and other wedding services are available. Make enquiries about the services of a wedding planner, who will arrange your special day for you.Email info@nigtb.gov.nf for further information.
ELECTRICITY
240 volts AC, 50 cycles, using a 3-pin Australian-style plug. Our electricity is generally excellent, but is produced by diesel generators. So we suggest you use a surge protection device for delicate electronic equipment – particularly computers.
[Where Is Norfolk Island?] [Description] [Photo Tour]