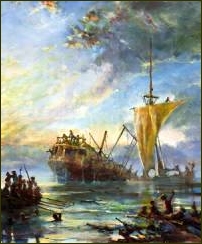 -->

A British frigate of 24 guns; three-masted; ship-rigged; crew of 120; commanded by Captain Edward Edwards.

The Pandora was sent out by the British Admiralty in order to capture the Bounty mutineers and, if possible, the ship. Bligh arrived in England on March 14, 1790, and only ten days later the King ordered a ship to be sent out to hunt down the "pirates." On April 1 the following notice appeared in the London Chronicles:
It is said that by the express command of His Majesty two new sloops of war are to be instantly fitted to go in pursuit of the pirates who have taken possession of the Bounty. An experienced officer will be appointed to superintend the little command, and the sloops will steer a direct course to Otaheite where, is is conjectured, the mutinous crew have established their rendezvous.
"Two sloops" were changed to one frigate, which was actually an upgrading of sorts. But the term "little command" accurately reflects the fact that to the Admiralty this expedition was of minor importance, especially since was expected at any moment.
The key dates of Pandora's voyage were:
November 7, 1790: Sailed from England
March 23, 1791: Arrived at Tahiti.
May 8, 1791: Sailed from Tahiti.
August 28, 1791: Struck the Great Barrier Reef and foundered.
September 15, 1791: Survivors reach Coupang on Timor.
June 19, 1792: Bounty men arrive at Spithead.
In November 1997, the wreck of the Pandora was discovered in seventeen fathoms of water on the outer edge of the reef near Cape York. For the story of the discovery and the exploration of the wreck see:
Marden, Luis. "Wreck of H.M.S. Pandora," National Geographic, October 1985.
-- This sketch is from Dr. Sven Wahlroos' book, Mutiny and Romance in the South Seas, and is used by permission. See Book Recommendations for a review of this outstanding work.