| | |
| --- | --- |
| HMS (HMAV) BOUNTY (ex Bethia) | |
--Text from Mutiny and Romance in the South Seas: A Companion to the Bounty Adventure by Sven Wahlroos. Used by permission. See Book Recommendations for more information about this book.
In the late 1780s the British Navy was made up of more than 600 ships of various sizes and types. Yet the Admiralty must have considered none of them suitable for the planned breadfruit expedition. For that purpose a ship had to be found which could be converted to a floating greenhouse; carrying capacity in relation to size was the main criterion.
Six merchant ships were considered and of them the Admiralty chose the Bethia which was fairly new, having been built two and a half years earlier at Hull. She was a three-masted, full-rigged, snub-nosed ship of only 215 tons burden and had so far been used only for coastal trading.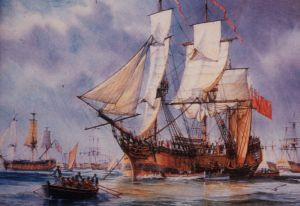 The Navy Board bought her on May 23, 1787, for £1950 and, on the suggestion of Sir Joseph Banks, renamed her Bounty. She was then immediately transferred to Deptford for refitting. (According to George Mackaness in The Life of Vice-Admiral William Bligh, the Bethia belonged to Duncan Campbell, the uncle of Bligh's wife Elizabeth. Campbell's influence may have played a role in the choice of Bligh as commander of the ship.)
The Bounty was incredibly small when one considers her mission. She was 90 feet 10 inches long with a beam of 24 feet 4 inches and a draft of 11 feet 4 inches. She had no superstructures; all accommodations and facilities were below deck. Her three masts varied in height from 48 to 59 feet. There were three yards on the fore- and mainmasts, two on the mizzenmast. Under the bowsprit there was a figurehead portraying a woman in a riding habit.
The refitting was costly. The bottom of the hull was sheathed in copper plate to protect the wood from teredos and other wood-boring worms, a rather new and very expensive feature. The procedure had first been tried in 1761, but had failed because of the electrolysis which results when ferrous and nonferrous metals are put in salt water and which leads to corrosion of the iron. By now, however, designers had learned to use only copper and bronze for exposed underwater fittings, and the Bounty was constructed accordingly.
The great cabin aft, normally reserved for captain's quarters, was extended to a third of the length of the ship in order to house the pots for the breadfruit plants. Planks with holes for the pots formed a second deck within the cabin and the floor was covered with lead sheeting to prevent the excess water from leaking through to the deck below. Pipes were fitted which would lead the water to containers below, so that it could be re-used. All in all there was room for 626 pots in the cabin. A large coal-fired heater was also installed so that the plants would not freeze when the ship was sailing in colder latitudes.
For armament the Bounty received four short-carriage four-pounders and ten half-pounder swivel guns. Although the Bounty may have been small for her mission, it certainly appears that no expense was spared in preparing her for the voyage: the total bill for the refitting came to £4456, more than twice the purchase price.
The Bounty was commissioned on June 8, 1787, and Lieutenant William Bligh was appointed her commander on August 16. (A list of her entire complement appears in the November 1787 commentary in Part I).
The history of the Bounty is told in detail in Part I of this book. Following is a list of only the most important dates:
End of 1784: Built in Hull.
May 23, 1787 Bought by the Navy Board.
June 8, 1787 Commissioned.
August 16, 1787 Bligh appointed commander.
December 23, 1787 Sails from Spithead
March 23, 1788 Reaches Staten Land, encounters heavy
Gales off Cape Horn.
April 22, 1788 Sets course for Cape of Good hope.
May 23, 1788 Anchors in False Bay.
July 1, 1788 Sails from False Bay.
August 20, 1788 Anchors in Adventure Bay.
September 4, 1788 Sails from Adventure Bay.
October 9, 1788 James Valentine dies.
October 26, 1788 Anchors in Matavai Bay.
November 15, 1788 Gathering of breadfruit completed.
December 9, 1788 Thomas Huggan dies.
April 4, 1789 Sails from Matavai Bay.
April 11, 1789 Aitutaki discovered.
April 22, 1789 Arrives at Nomuka.
April 28, 1789 Mutiny; Christian assumes command.
May 24, 1789 Arrives at Tubuai
May 31, 1789 Sails from Tubuai.
June 6, 1789 Anchors in Matavai Bay.
June 16, 1789 Sails from Matavai Bay.
June 23, 1789 Arrives at Tubuai.
September 17, 1789 Sails from Tubuai.
September 22, 1789 Anchors in Matavai Bay.
September 23, 1789 Sails from Matavai Bay.
October ?, 1789 Rarotonga discovered.
January 15, 1790 Arrives at Pitcairn.
January 23, 1790 Burns and sinks.
Finally it should be mentioned that there are two Bounty replicas sailing today. One was built in Lunenburg, Nova Scotia, by Metro Goldwyn Mayer for the 1962 movie version of the mutiny. At the time of writing (September 1988), she is on exhibit at the Bayside Marketplace in Miami, but she still sails and, for example, took part in the Tall Ships Parade during the Statue of Liberty Centennial celebrations.
The second Bounty replica was used by Dino de Laurentiis for the 1983 movie. She was in Fremantle during the America's Cup races in 1987 and at that time was on her way around the world with passengers who also performed the duties of crew members. She also took part in the re-enactment of the sailing of the First Fleet to Australia in commemoration of the Bicentennial of the first settlement of the continent.
--Text from Mutiny and Romance in the South Seas: A Companion to the Bounty Adventure by Sven Wahlroos. Used by permission. See Book Recommendations for more information about this book.
For additional information about HMS Bounty, see John McKay's The Armed Transport BOUNTY, Naval Institute Press, Annapolis, Maryland 21402, 1989. First published in Great Britain by Conway Maritime Press Limited, 24 Bride Lane, Fleet Street, London EC4Y 8DR. ISBN 0-87021–280-X.