Who and how many people are living on Pitcairn Island today? What do the Pitcairn people look like? The answer to "How many?" changes frequently as one ship arrives bringing either returning Pitcairners or visitors, and another ship takes Pitcairners or visitors from the Island.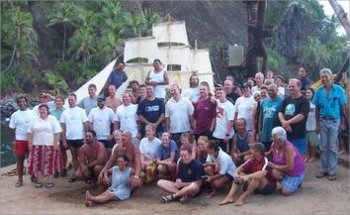 Pitcairners on Bounty Day, Jan. 23, 2004
(Courtesy Mike Warren)
Thanks to the hard work of Pitcairner Nadine Christian, the list below gives particulars on each person on the Island, and includes photographs of many of them. Pitcairn's population information is updated each year in the December issue of the Pitcairn Miscellany, the Island newspaper which circulates throughout the world.
Updated by Kair Boye Young:


February 20, 2014.

TEMPORARY RESIDENTS:
As of Feruary 20, 2014
Seventh-day Adventist Church Pastor Jean Claude Honoura, wife Esperance, and baby Hope.
Governor's Representative Pete Smith and wife Cynthia.
Island Physician Loyd Fletcher.
Island Teacher Jim Park.
Police Officer Craig Arvidsson and partner Claire Rapson.
Social Worker Suzanne Nixon and partner Mike Rodden.
___________________________________________________
RESIDENTS
(Residents are listed in ALL CAPS. Non-resident relations are indicated in lower case.)
BROWN

ARIEL (b. 1989) (Temporarily off island) Daughter of DAVE and LEA. Sister of DAVID
Photo of Bradley, Josh, and Ariel, Jan 2004

DAVE (b. 1954) Son of LEN. Husband of LEA. Father of ARIEL and DAVID. Brother of OLIVE

DAVID (B. 1990) Son of DAVE and LEA. Brother of ARIEL

LEA (b. 1961) Wife of DAVE. Mother of ARIEL and DAVID

LEN (b. 1926) Father of DAVE and OLIVE. Brother of MAVIS and ROYAL
Father of OLIVE and DAVE. Brother of MAVIS and ROYAL.
Photo of Len (2011)

CHRISTIAN

ADRIANNA (b. 2007) Daughter of NADINE and RANDY. Sister of BRADLEY, EMILY and RYAN AND ISABEL

ANDREW RANDALL (b 1985) Son of BRENDA and stepson of MIKE L
Photo of Andrew, Jan 2004

BETTY JEAN (b. 1943) (temporarily off island) Mother of JACQUI

BRADLEY (b.2001) Son of RANDY and NADINE. Brother of EMILY, RYAN, ADRIANNA AND ISABEL
Photo of Bradley, Josh, and Ariel, Jan 2004
Photo of Bradley, Nov. 2004

DENNIS (b. 1955) Son of IRMA

EMILY ROSE (b. 2003) Daughter of RANDY and NADINE. Sister of BRADLEY, RYAN, ADRIANNA and ISABEL
Photo of Emily and Olive, her Nana (Sep 2004)
Photo of Emily (2008)

IRMA (b. 1927) Moter of Dennis.

ISABEL (b. 2010) Daughter of RANDY and NADINE. Sister of BRADLEY, EMILY, RYAN and ADRIANNA

JACQUI (b. 1970) Daughter of BETTY. Partner of LESLIE

MICHELE (b.1969) Wife of SHAWN

NADINE JUNE (b. 1972) Wife of RANDY. Mother of BRADLEY, EMILY, RYAN, ADRIANNA and ISABEL
Photo of Randy and Nadine's Wedding, 2003

OLIVE (b. 1953) Daughter of LEN. Wife of STEVE. Mother of RANDY and SHAWN

RANDY (b. 1974) Son of STEVE and OLIVE. Husband of NADINE. Father of BRADLEY, EMILY, RYAN, ADRIANNA, ISABEL.
Photo of Randy and Nadine's Wedding, 2003

RYAN (b. 2005) Son of RANDY and NADINE. Brother of BRADLEY, EMILY, ADRIANNA, ISABEL

SHAWN (b. 1951) Husband of MICHELE

STEVE (b. 1951) Husband of OLIVE. Father of RANDY and SHAWN

EVANS

MELVA (b. 1949) Daughter of ROYAL. Sister of MIKE W.

GRIFFITHS

DARRALYN (b. 1976) Daughter of JAY and CAROL. Sister of CHARLENE. Wife of TURI

TURI Husband of DARRALYN

JAQUES

LESLIE (b. 1952) Partner of JACQUI

LUPTON-CHRISTIAN

MENZIES

HEATHER (b. 1957) Partner of KERRY

O'KEEFE

SUE (b. 1963) Partner of PAWL

PEU

VAINE Partner of CHARLENE. Father of RALPH, JAYDEN, KIMIORA, TORIKA, CHUSHANA

WARREN

CAROL (b. 1959) Wife of JAY. Mother of DARRALYN and CHARLENE
Photo of Carol weaving a broom (2005)

CHARLENE (b. 1979) Partner of VAINE, Daughter of JAY and CAROL. Sister of DARRALYN. Mother of RALPH, JAYDEN, KIMIORA, TORIKA and CUSHANA

DAPHNE (b.1939) Wife of KEAN. Mother of PAWL

JAY Husband of CAROL. Son of MAVIS. Brother of MERALDA. Father of DARRALYN and CHARLENE
Photo of Jay Warren (2006)

KEAN (b.1938) Husband of DAPHNE. Father of PAWL

MAVIS (b. 1936) Mother of JAY and MERALDA. Sister of ROYAL and LEN

MERALDA (b. 1959 Daughter of MAVIS. Sister of JAY
Photo of Meralda and Mavis (2008)

MICHAEL (b. 1964) Son of ROYAL. Brother of MELVA

NOLA (b. 1941) (temporarily off island) Wife of REYNOLD
Photo of Reynold and Nola

PAWL (.1963) Son of KEAN and DAPHNE. Partner of SUE
Photo of Pawl Warren, Dec. 2006

REYNOLD (b. 1929) (temporarily off island) Husband of NOLA
Photo of Reynold and Nola

ROYAL (b. 1928) Mother of MICHAEL and MELVA. Sister of MAVIS and LEN

WARREN-PEU

CUSHANA (b. 2008) Daughter of CHARLENE and VAINE. Sister of RALPH, JAYDEN, TORIKA, KIMIORA.

JAYDEN (b. 1998) (temporarily off island) Son of CHARLENE and VAINE. Brother of RALPH, TORIKA, KIMIORA, CUSHANA

KIMIORA (b. 2000) Son of CHARLENE and VAINE. Brother of RALPH, JAYDEN, TORIKA, CUSHANA

RALPH (b. 1997) (temporarily off island) Son of CHARLENE and VAINE. Brother of JAYDEN, KIMIORA, TORIKA, CUSHANA Photo of Ralph Warren-Peu washing arrowroot in the bottom of the Bounty pot, Aug. 2008

TORIKA (b. 2002) Daughter of CHARLENE and VAINE. Sister of RALPH, JAYDEN, KIMIORA, CUSHANA

YOUNG

BRIAN (b. 1954) Husband of Kari

KARI BOYE (b. 1944) Wife of Brian

KERRY (b. 1963) Partner of HEATHER

SHIRLEY (b. 1960) Wife of SIMON

SIMON (b. 1965) Husband of SHIRLEY