| | |
| --- | --- |
| Norfolk Island Philately | |
| First Day Covers | |
The stamps of Norfolk Island have long enjoyed a favored place in the world of philately – its issues are among some of the most attractive and educational of all countries of the world. Appearing below is the First Day Cover of the Island's latest issues.
25th Anniversary of Norfolk Island National Park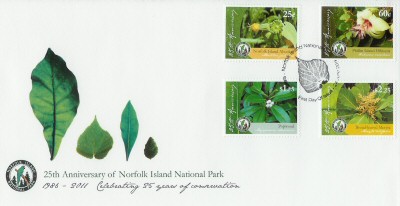 The Norfolk Island National Park and Norfolk Island Botanic Garden protects over 655 hectares of the remote Territory of Norfolk Island. Set in the south-west Pacific Ocean, the Territory provides a link between tropical and temperate oceanic island environments, and is home to unique assemblages of flora and fauna.
The Park and Garden provide habitat and breeding areas for endemic species, migratory birds and large colonies of breeding seabirds. They protect remnant areas of subtropical rainforest and vine-covered hardwood forest which once covered much of the Island.
Management of the National Park and Botanic Garden has a strong focus on the protection of existing native flora and fauna and habitat restoration through the control of invasive species, planting of native vegetation and implementation of erosion control measures.
The National Park and Botanic Garden provide educational, scientific, cultural and recreational opportunities for Norfolk Island residents and visitors, and is a valuable resource for the Norfolk Island tourism industry.
This stamp issue recognizes 25 years of conservation success and acknowledges the hard work of rangers in the Norfolk Island National Parks.
Norfolk Island Abuliton - Abutilon julianae – This low-growing plant was considered extinct until rediscovered on Phillip Island in 1985. When the last of the goats, pigs and rabbits were removed from Phillip Island, the abutilon started re-colonizing. Propagation and active planting is also securing this species' future on Norfolk Island.
Phillip Island Hisiscus - Hibiscus insularis – While the entire wild population of this plant is confined to Phillip Island, thanks to widespread plantings it is now well distributed throughout Norfolk Island. Its beautiful flowers are cream to light green with a dark magenta center when they first open. The flowers then redden as they age.
Popwood - Myoporum obscurum – These often dome-shaped small trees grow to about six meters tall in open areas of forest. Their shiny green leaves have a black tip and often black margin. Prolific, scented white flowers in summer are followed by pea-sized purple berries. Through active management, these trees are increasing in number and distribution within the park and garden.
Broad-leaved Meryta - Meryta latifolia – One of Norfolk's plant success stories, this species is on the road to recovery. In the early 200s, there were only about 20 female plants left, but with propagation and replanting the numbers have increased dramatically.
The vulnerable narrow-leaved meryta, Meryta angustifolia, is similar; but with narrower leaves.
Technical Details - The issue date of these stamps was June 24, 2011. The stamp values are 25 cents, 60 cents, $1.55, and $2.25. The First Day Cover value is $5.20, with a withdrawal date of July 22, 2011. The designer of the stamps is 2899 Design of Norfolk Island. The photographic artists of the stamp issue are Rob Nisbet, Kevin Mills and the Norfolk Island National Park. The printer of the stamps was Southern Colour Print. The sheet layout is 50 stamps per sheet in two pages of 25. The print quantity of the stamps is 15,000.
Norfolk Stamp Issues
(Click small stamp images to see larger views.)
Norfolk stamps of recent date are illustrated below along with their date of release. Additional release dates and a history of Norfolk philately may be seen by clicking here.
2011 - Chrismas Issue

80 Years of Policing
World Heritage
National Parks
Seashells - Island Shores
Definitive
Museum Artefacts, 2

2010 - St. Barnabas Chapel

World Bowls Champion
Christmas 2010
Species at Risk
Cruise Ships - Norfolk Island
They Came Aboard Moyarshire
Whaling History of Norfolk
World Bowls Championship

2009 - Christmas 2009

Norfolk Island Legislative Assembly
Bush Birds
Joint Territories of Australia
Fungi of Norfolk Island
Cattle Breeds of Norfolk Island
Norfolk Island Mosaics

2008 - Ships Built on Norfolk Island

Rare Ferns in Norfolk Island
St. John's Ambulance, 25th Anniversary
Calves of Norfolk Island
A Jewish Resting Place
Faces of Norfolk Island
Classic Cars

2007 - Banyan Park 'Friendship' Center

Christmas 2007
Bicentennary of 1st Settlement
Queen Victoria Scholarship
Ghosts of Norfolk Island
Palm Seed Industry
Adventure Sports
Weed Flowers

2006 - Christmas 2006

Centenary of Middlegate School
Dogs Issue
Seabirds Definitive - Part 2
Traditional Hats
Sesquicentenary Issue
- Arrival at Norfolk Island
Sesquicentenary Issue
- Departure from Pitcairn
Commonwealth Games
Queen's Baton

2005 - Christmas 2005

Seabirds Difinitive - Part 1
Hibiscus Flowers
Old Island Houses
Norfolk Island Museum
Centenary of Rotary International

2004 -

Sharks
Spiders of Norfolk Island
Werken Dar Shep
Hippeastrums
QUOTA Int'l – Norfolk Island 25th Anniversary Issue
New local stamps
World Wildlife Fund for Nature
25th Anniversary of Self Government
Christmas 2004

2003 -

Horses on Norfolk Island
Photographic Scenes of Norfolk Island
Lillies Issue – Part 1
Writer's Festival
Personalised Stamps
50th Anniversary of Queen Elizabeth II Coronation
100th Anniversary of Powered Flight
Christmas 2003

2002 -

Nuffka
Cliff Ecology
Her Majesty Queen Elizabeth II's Golden Jubilee
The Age of Steam
6th South Pacific Mini Games
Bounty Bowls
Philip Island Flowers (Part 1)
Commonwealth Games
Philip Island Flowers (Part 2)
Sperm Whale (Joint issue with New Caledonia)
Alliance Airlines – First Flight to Norfolk Island
Christmas 2002

2001 -

Norfolk Island Green Parrot

Hong Kong 2001
Year of the Snake
New Zealand Nat'l Stamp Exhibition, Invercargill
Bounty Day
Tourism Part 1 (Fragrance)
Calm Waters
Peace Keeping
6th South Pacific Mini Games, Norfolk Island
Postage Laels (counter-printed stamps)
Christmas 2001

2000 -

Festivals of Norfolk Island, Part 2
Year of the Dragon
Ducks & Geese of Norfolk Island
ANZAC Day 2000
Whaler 2000 Project
Bounty Day 2000
Eighth Festival of Pacific Arts 2000
Olymphilex 2000
Canpex 2000
Christmas 2000
Norfolk Island's Personalised Stamps

["Stamps of the Australian Territories: Norfolk Island" (By F. Collas, Assistant Controller, Postmaster-General's Department, Melbourne)]